What does the future look like for your child?
Is your child ready for their future that is filled with uncertainty and unknowns? The World Economic Forum predicts that 65% of primary school students today will be in jobs that do not exist today.
As with all democratic and informed parents, we want to prepare our children to be ready for the rapidly evolving future ahead, and yet still be able to pursue their innate interests. But how?
We need to recognize
the paradigm shift from the importance of
"the skills to have"
to
"the way to think"
My Little Big Boss program is designed to help our young sprouts develop essential skills to future-proof them. And this is achieved by taking them through a unique and holistic entrepreneurial journey we have curated for them. In the process, we seek to help your child build inquisitiveness which is an important skill that allows them to continuously seek new opportunities to learn and lay the foundation for lifelong learning.
Children will be presented with situations that will require them to innovate and review their business to strive for success.
Our resources will walk them through everything they will need to know in order to kick start their business.
My Little Big Boss Learning Framework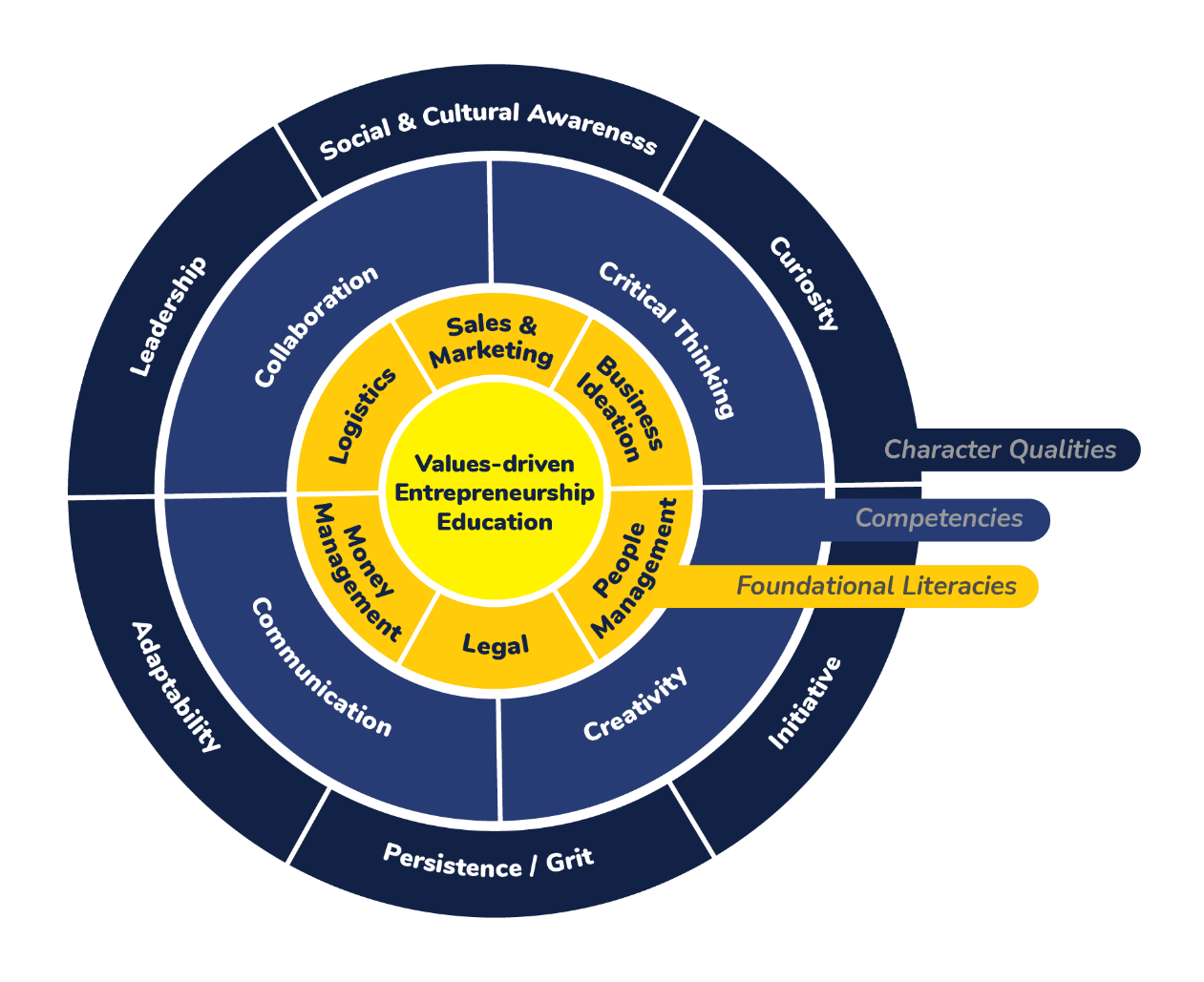 MLBB Framework is formulated with the selected qualities in mind that will be built up during their journey in entrepreneurship.
Character Qualities/ Building – Self-Discovery

Building of core management team. Exposure to opportunity in leading a team or supporting as a team player.
Social & Cultural Awareness
Being sensitive to different cultures in order to conduct business in a cross-boundary environment.
Wanting to learn or find out more about the problems and ways to resolve them.
Taking the first step to resolve problems or enhance business models.
Developing a winning spirit in overcoming challenges to sustain or advance the business.
Adapting to changes in the business environment and making alternate plans.
Competencies – Entrepreneurship
Workshop, Online portal, carnival*, and community.
Online portal, Shark tank*, carnival*, and workshop.
Online portal (selling of product) and Interest kits.
Shark tank*, online portal, mentorship, carnival*, and community.
*Coming soon
Foundational Literacies – Education
(Starter and

interest kit

+ workshop)
Exploring the basic fundamentals of inventory management, and igniting the curiosity of our young children in understanding how demand and supply work.
Logistics plays an important part in the business and is essential for the kids to understand which model works best for their businesses. Basic fundamentals of inventory management will allow the kids to understand the concept of supply and demand and how to overcome some of the challenges through collaboration.
Our little big bosses will face different objections during the selling process both in our online marketplace and carnival booth sale to provide an opportunity for them to adapt to a different situations.
With the emergence of social media, business leverages on the wide audience base online to reach out to their addressable market more effectively. Kids will learn and practice both traditional and online sales and marketing approaches through our carnival event and online marketplace respectively.
Promote persistence and grit in our children by having them identify problems and finding ways to solve them in a business context, through the business journal exercise, this allows our children to build up initiatives and develop their own business plan, taking time to review their plan from time to time.
Kids will be introduced to how business ideation works and the application of design thinking methodology to facilitate the entire process. The 5 key processes in design thinking are empathizing with the society and environment you are in, defining the key problem that you like to solve, ideation of solutions to resolve the problem, select and develop prototypes before conducting a test with actual users to determine the effectiveness and the implementation plan for the production.
Our workshop allows our little big boss to work in a group, playing different roles in the company and also exposing them to building their social and cultural awareness through working with their peers.
The key to the success of any business depends on the team behind it. Kids will learn about various roles in the team to drive the business and allow them to identify their strengths early through role-playing exercises during the workshop and carnival.
The opportunity to ignite the kids' curiosity and explore different business functions through the entire business journal process, and understanding requirements of setting up an actual business through our online resources and mentorship from an entrepreneur.
Kids will learn about what are the legal rights to protect their ideas, design, and invention. It is essential to protect the intellectual properties from the start and it will create value in the business for the future.
Building the curiosity in our children to understand how business works in real-life, and more importantly how a business sustains. Our kids are also encouraged to set sales goals when participating in our carnival booth sale.
Kids will learn how to price their products and how much they will need to kick start their business. Financial terms in business such as Revenue, CAPEX, OPEX, and Profit will be simplified for them to understand the concept and allow them to run their business.
Empower your children to be an Entrepreneur
Get the Little Big Boss Starter Kit today!